Skip to Main Content
It looks like you're using Internet Explorer 11 or older. This website works best with modern browsers such as the latest versions of Chrome, Firefox, Safari, and Edge. If you continue with this browser, you may see unexpected results.
Mathematics Education Journals
this content originally from Queensland University of Technology and is licensed CC-BY-NC-SA
Unless the title is Open Access, please access full text, if available, via the NYCCT Library ejournal portal. Links below go to the general journal homepage.
Your Librarian
Monica Berger
Conferences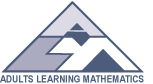 Adults learning mathematics annual conference
- Adults Learning Mathematics International Research Forum
Publication Date: 2005 -
A catalyst for the development and dissemination of theory, research, and best practices in the learning of mathematics by adults; providing identity for the profession; and internationally promoting and sharing knowledge of adults mathematics learning for the public benefit.
BSRLM Meetings
- British Society for Research into Learning Mathematics (BSRLM)
BSRLM meets three times a year to present and discuss the latest research in mathematics education. Informal Proceedings of meetings of the Society - the latest research published as soon as practicable after each day conference. The Proceedings are available online.
ICMI Conferences
- International Commission on Mathematical Instruction (ICMI)
ICMI is focused on the development of mathematical education at all levels. It provides a forum for the exchange of ideas on the teaching and learning of mathematics from primary to university level. Three series of conferences are regularly organised: The International Congress on Mathematical Education (ICME), International Congress on Mathematical Education (ICME) Studies, and ICMI Regional Conferences.